Clydesdale Built-in Wood Heater
SPECIFICATIONS
Fascia (mm):
1030mm wide x 800mm high
Firebox (mm):
850mm wide x 650mm high x 450 deep
Heating Area:
Heats up to 350 sq/m*
Firebox Capacity:
Logs up to 630mm wide
Flue Size:
195mm wide
FEATURES
Removable Baffle for easy cleaning
Fan-forced
4 surface finishes available
OPTIONS
Chrome-plated door
Customisations as listed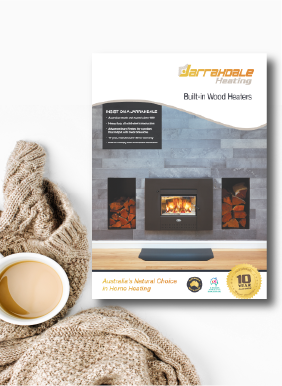 The Clydesdale is our latest and greatest wood heater, unrivalled for burn time and heat output. Designed with large residences and large, open-plan living areas in mind, this grand heater can warm areas up to 350 square metres with long lasting, permeating heat.
Aesthetically pleasing, the Clydesdale features a modern, linear design and wide glass viewing pane. The Clydesdale promises to keep you toasty warm while being a standout feature of your home.
COMMON CUSTOMISATIONS
Flue Placement – Move the standard flue centre forward or back, to line-up with your existing chimney centre
Fascia Size – If the standard fascia sizes are not ideal for your existing fireplace opening, we can manufacture a custom-fascia to fit
Fan Power Cord – Position the power cord to suit the location and distance of the closest power point. The fan power cord can protrude from the left or the right side of the heater and can be extend to avoid the use of extension cords.
Custom Chimney Covers -All chimneys are different and sometimes the standard chimney cover is too small. We will manufacture the correct chimney cover to suit your home.