Wood Heater Installation & Servicing
Installation
Jarrahdale Heating and Cooling have installed wood heaters in Perth homes for almost 40 years
We use an expert team of experienced installation contractors to install our heaters. Many have been working with us  for over 20 years.
Once the perfect wood heater has been selected for your home, installation can be expected just 1-2 weeks later. On installation day, our technician will position the heater according to your preferences and safety requirements. During a standard installation, a ceiling plate is then fixed to the ceiling directly above the heater and the flue is fixed to the heater and fed up into the roof. A triple-skin flue is used in the roof space to ensure there is no transfer of heat into the roof. A flashing is then applied to seal the flue and prevent water leaks.
To complete the install, our technician will provide a handover and answer any questions you may have – then your wood heater is ready to use.
For Freestanding Wood Heaters this installation process generally takes just 2-3 hours. More time is required for built-in Wood Heaters to achieve integration with the fireplace cavity. Please allow 6-8 hours for a fireplace installation.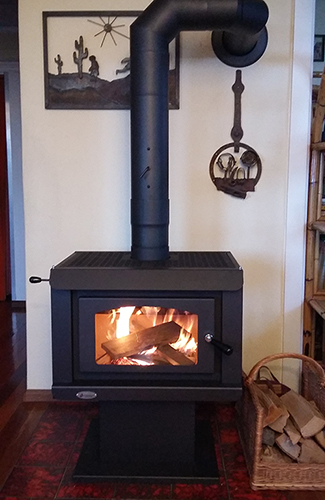 Custom Installs
As we manufacture all our own wood heaters, Jarrahdale Heating and Cooling can also accommodate many unique and custom installation situations, such as installing the flue through a boundary wall due to roof constraints (as shown in the pictures below).
After many years of roaring fires, your Jarrahdale wood heater could require servicing or replacement parts to keep it in great condition. Most commonly, this simply includes standard maintenance such as replacing the seals and a chimney sweep. Other parts that may occasionally need replacing include the baffle, glass or fan.
All replacement parts are readily available from our factory-direct showroom in Maddington, or can be ordered through your local agent. For pricing and order enquiries, please contact us.
Before placing an order, please check if required parts or repairs are covered by your warranty.