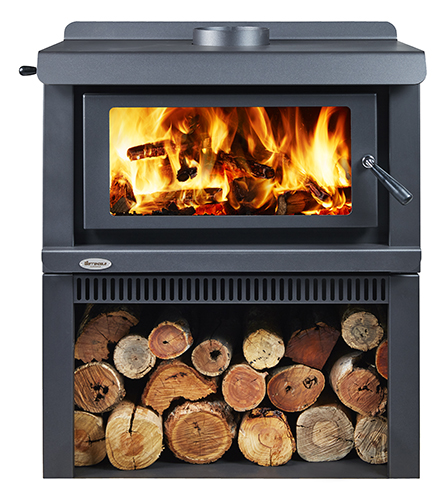 The Clydesdale Wood Stacker is a latest release model joining the Jarrahdale Heating range.
This striking log burner boasts all the features of the Clydesdale Freestanding with the addition of a built-in wood storage area underneath the firebox.
Designed to offer convenient access to logs for your fire, this space-saving design also helps to maximise the floor area available in your home and keeps wood stacked neat and tidy.
The Clydesdale Wood Stacker is our biggest wood heater, unrivalled for burn time and heat output. Designed with larger residences and expansive, open-plan living areas in mind, this grand heater can warm areas up to 350 sq/m with long lasting, permeating heat.
Features include a striking, modern façade with streamline fascia and a huge, extended glass panel door for entrancing views of the fire.
Specifications & Features
Dimensions (mm):
915mm wide x 1050mm high x 520mm deep
Heating Area:
Heats up to 350 sq/m*
Firebox Capacity:
Logs up to 730mm wide
Flue Size:
195mm wide
Features:
Removable Baffle for easy cleaning
Large door opening for bigger logs
Two-speed Fan
Wood storage box
4 surface finishes available
Standard Inclusions:
4m Flue Kit including;
2 lengths of internal single flue, 2 lengths of external triple-skin flue,
cowl and ceiling plate
Quote Request: Clydesdale Wood Stacker
Really good company, they're legit 👍😊 Great customer service as well. Highly recommend (& I'm fussy, lol).

Ashley Young


8 June 2023

Bought new Wood heater from Jarrahdale heating recently and Holly was awesome. Very easy to deal with, She organized to have the heart cut to size as it was... read more a bit to big without any fuss and Installation was a breeze. Jarrad did an awesome job installing it. Thanks Holly and Jarrad great work

A Day


2 June 2023

This is my second fireplace I've had installed from the amazing team at Jarrahdale heaters Maddington. Loved my first one and now my Swagman in my new abode... read more is so homely, comfortable, efficient and beautiful.

Liz Chamberlain


2 June 2023

Awesome service by Brandon, I would highly recommend their high quality products.

Lionel Trewarn


17 May 2023

Attended the Maddington office today to purchase our second Jarrahdale fire (after selling our previous home). My husband had spoken to Brandon on the phone in the week prior to... read more ask some questions and was provided with some great advice. In person, Brandon was just as good. Nice guy, great service and happy to answer any questions we had. Very easy process. Cannot wait to get the fire installed and enjoy another winter of warmth only a fire can bring. Thanks Brandon!

Tash F


15 May 2023

The team at JHC Maddington were very helpful and recommended a great product. They were very accommodating when things didn't quite go to plan and helped navigate through it.

Sarah Notte


1 May 2023

I have an older Jarrahdale Millennium Evap A/C installed - the service and support from Jarrahdale is exceptional. Even though my unit is well outside warranty and expected service life,... read more they are still happy to provide service and support whenever possible. A big shout-out to their service specialists for the support over the years.

Travis Brown


22 March 2023

The sales person (Brandon) was very helpful & knowledgeable; the installer (Peter) was outstanding - professional, courteous, with an impeccable work performance. We are very please with the results. Thank... read more you

ShunLin WA


22 January 2023

Looking to replace our 24 year old evaporative system with a new system, I contacted Jarrahdale Heating and Cooling and another supplier (NoR). Dealing with Brandon at JHC was straightforward... read more and he responded promptly to all my questions with no hard sell. The quote was to my liking and we were happy to go ahead. The installation was efficient and cleanly done and we are very happy with the result. From my experience I am happy to recommend JHC. Interestingly, I am still waiting for a quote from the other supplier having given them the details they wanted over 3 weeks ago.

Trevor Drinkwater


22 December 2022

We just had a ducted reverse Cycle and split system installed weHighly recommend them they provided excellent service from the first contact through to the installation

Darren Teasdale


22 November 2022
Really good company, they're legit 👍😊 Great customer service as well. Highly recommend (& I'm fussy, lol).

Ashley Young


8 June 2023

Bought new Wood heater from Jarrahdale heating recently and Holly was awesome. Very easy to deal with, She organized to have the heart cut to size as it was... read more a bit to big without any fuss and Installation was a breeze. Jarrad did an awesome job installing it. Thanks Holly and Jarrad great work

A Day


2 June 2023

This is my second fireplace I've had installed from the amazing team at Jarrahdale heaters Maddington. Loved my first one and now my Swagman in my new abode... read more is so homely, comfortable, efficient and beautiful.

Liz Chamberlain


2 June 2023

Awesome service by Brandon, I would highly recommend their high quality products.

Lionel Trewarn


17 May 2023

Attended the Maddington office today to purchase our second Jarrahdale fire (after selling our previous home). My husband had spoken to Brandon on the phone in the week prior to... read more ask some questions and was provided with some great advice. In person, Brandon was just as good. Nice guy, great service and happy to answer any questions we had. Very easy process. Cannot wait to get the fire installed and enjoy another winter of warmth only a fire can bring. Thanks Brandon!

Tash F


15 May 2023

The team at JHC Maddington were very helpful and recommended a great product. They were very accommodating when things didn't quite go to plan and helped navigate through it.

Sarah Notte


1 May 2023

I have an older Jarrahdale Millennium Evap A/C installed - the service and support from Jarrahdale is exceptional. Even though my unit is well outside warranty and expected service life,... read more they are still happy to provide service and support whenever possible. A big shout-out to their service specialists for the support over the years.

Travis Brown


22 March 2023

The sales person (Brandon) was very helpful & knowledgeable; the installer (Peter) was outstanding - professional, courteous, with an impeccable work performance. We are very please with the results. Thank... read more you

ShunLin WA


22 January 2023

Looking to replace our 24 year old evaporative system with a new system, I contacted Jarrahdale Heating and Cooling and another supplier (NoR). Dealing with Brandon at JHC was straightforward... read more and he responded promptly to all my questions with no hard sell. The quote was to my liking and we were happy to go ahead. The installation was efficient and cleanly done and we are very happy with the result. From my experience I am happy to recommend JHC. Interestingly, I am still waiting for a quote from the other supplier having given them the details they wanted over 3 weeks ago.

Trevor Drinkwater


22 December 2022

We just had a ducted reverse Cycle and split system installed weHighly recommend them they provided excellent service from the first contact through to the installation

Darren Teasdale


22 November 2022

Really impressed with Jarrahdale heating and Cooling - I was worried when I booked with them as they were the cheapest of the quotes I received but they came recommended... read more so I thought I'd give them the benefit of the doubt. I am so glad I did because this company has been fantastic, very communicative and friendly and the installation team did a great job and even cleaned up after themselves. I would (and will) recommend them. Thanks again to Rowan and Shane.

Maggie Roberts


22 July 2022

Quality products, locally manufactured by a wonderfully supportive team of professionals who genuinely care about ensuring they achieve maximum customer satisfaction. A class act, couldn't recommend them enough.

Michael Davey


12 July 2022

We had a Jarrahdale stove installed yesterday. We are so grateful to be warm and cosy. Great heater! Thank you

jodie Gream


28 June 2022

Fantastic service, was so informative on the wood heater I needed for my home. Highly recommend Jarradale heating as the heaters are manufactured on the premises.

Dianne Caine


19 June 2022

My old Jarrahdale Air Conditioner died in the pre Chrismas heat wave after 18 years so I contacted Jarradale Heeating & Cooling for advice to see if it was worth... read more fixing or to replace it. Derek from the service centre advised my on all options in repairing and replacing the unit, and as such I took a chance on the repair option. Derek managed to book in the repair before Chrismas and Steven the repairer replaced the motor and got the unit going within a short time. It is rare to find an organization who is so effective, courteous and professional these days. I highly recommend Jarrahdale Heating & Cooling as my experience with dealing with them show that they really do know how to carry out repairs and care about the service they provide to their customers. Chris Mac CANNING-VALE WA AUSTRALIA

CHRIS Mac


22 May 2022

WOW! I cant believe how good this company is. Right from the initial contact with Holly through to the installation by Jason, it was a breeze. (Sorry about the... read more Pun) Holly was knowledgable, knew exactly what I wanted and was professional in manner. I was quoted a price that was less than others by far and after the installation was advised that the price was actually $310 less than quoted as some parts were not required. Holly liased with my real estate agent to open the home for Jason to do the installation and everything was done in a timely and efficient time frame. I could not be happier. Dont waste time getting quotes from multiple places, go dirfect to this fantastic Business. Thank you Holly, Jason and the team at JHC, well done. Julie

Julie May


22 May 2022
Our Dealer Network
Find Jarrahdale wood heaters at a showroom near you